How do you

play with your kids

? Watch TV? Play games? Long-time watching TV & phone will be

harmful to kids' eyes

.
The best way of family interaction!!!
Kids no longer are addicted to TV & mobile phones. 
When kids are playing table tennis, they focus on the ball and their eyes will do exercise according to the path of the ball, which will release eyes after a long-time watching TV & mobile phones, preventing from myopia.

SINGLE & MULTI-PLAYER GAME
Very entertaining and enjoyable to play solo or with friends
Saves you space by simply allotting a small area for your table tennis training🏓
You don't have to call in your friends to play with you during wee hours because you can play it with yourself 🥳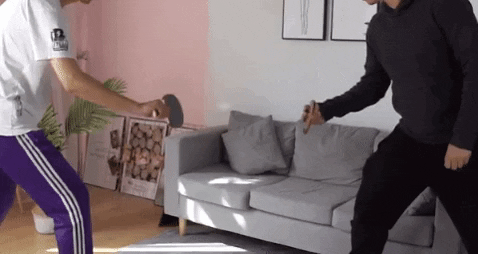 IMPROVES YOUR REFLEXES
Develops your

 

eye and hand coordination😎
Exercises your joints

 

🏓and acts like a mini home workout
Enhances your

 

speed and agility 🕺🏼
MADE WITH HIGH QUALITY MATERIALS
Super elastic spring 😎that flawlessly bends without breaking
Attached is a very durable ball that won't shed 🏓or easily removed
Heavy weight foundation so it stays in place while you play
PLAY TABLE TENNIS ANYWHERE ON ALMOST ANY TABLE ANYTIME!


RETRACTABLE TABLE TENNIS NET
 

is designed with a spring clip system, easy to set up and set off. Moreover, this net is 

practical

,

compact

 

and

 

convenient which makes it ideal for table tennis fans.
You can turn any tabletop to a crazy ping-pong match with a portable table tennis net! Most importantly, it can
 

expand

 to 5.6 feet (1.7m) and

 

retracts for

 

easy storage

.
Features
Adjustable-length

net

 

expands to 170cm
Can be clipped on almost

 

any surface

 

(thickness less than 5cm)
Retractable

 

net easily expands, retracts for

 

easy storage